HIS HOLINESS SWAMI RAJ RAJESHWARANAND GIRI Ji Maharaj Pattabhishek ceremony,
Jhumpa, Rajastan, India.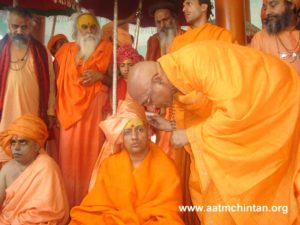 Shri Shri HIS HOLINESS SWAMI RAJ RAJESHWARANAND GIRI Ji maharaj was conferred with Mahamandaleshwar title during pattabhishek ceremony in Jumpha, Rajasthan. Mahamandaleshwar Pattabhishek ceremony was precided by the ACHARYA (Chief Spiritual Leader) of Juna Akhara, HIS HOLINESS SWAMI AVDESHANAND GIRI Ji Maharaj.
Mahamandaleshwar (or Maha Mandaleshwar) is a title used by Hindu monks of the Dashanami order of renunciates ("swamis") founded by Shankaracharya. A person called Mahamandaleshwar has been elevated by his peers to the highest level of traditional, Hindu spiritual guardianship. Literally, "Mahamandaleshwar" means "Superior of great and/or numerous monasteries" or "Superior of a religious district or province" (maha = great, mandala = district, ishwara = head, sovereign).